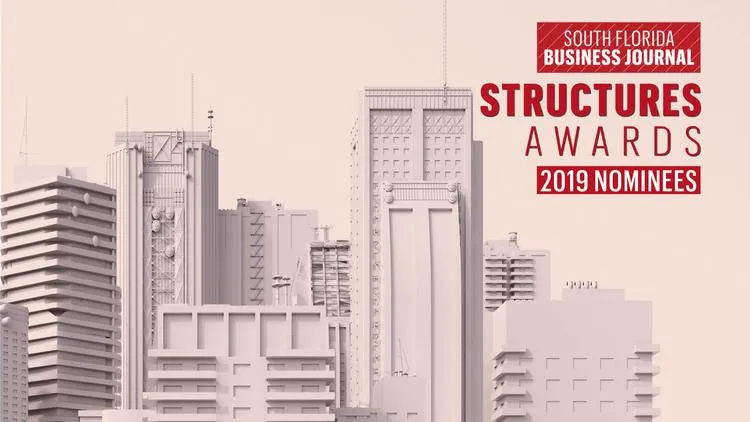 2019 Structures Awards celebrated its recognized Nov 21
Fri Nov 22 2019
The Business Journal held its fourth annual Structures Awards recognizing the tri-county area's top real estate projects, deals and dealmakers Nov. 21 at Jungle Island in Miami.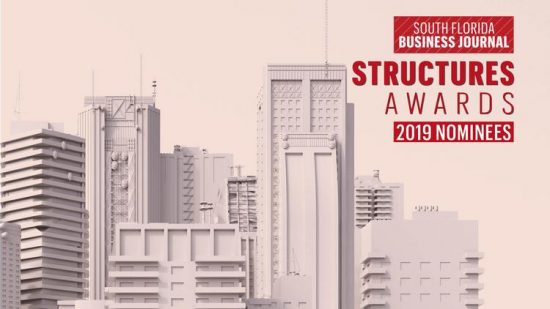 The Structures Awards honor the most impactful projects and people in the tri-county region's real estate and development sectors. Projects range from residential to commercial, hospitality to green projects and beyond.
——-
CONGRATULATIONS to all of the winners and finalists!
——-
BEST ARCHITECTURE/DESIGN: FINALISTS
Auberge Beach Residences & Spa Fort Lauderdale
Nichols Brosch Wurst Wolfe & Associates and The Related Group
Key partners
Sales and marketing: Fortune International
Interior Designer: Meyer Davis Studio
Landscape architect: Enea GmbH
Auberge Beach is a lifestyle destination project nearly 20 years in the making. Despite facing numerous challenges – from community opposition to hurricanes and the Great Recession – the original owners of the property, The Fairwinds Group, sought to turn the former Ireland's Inn Beach Resort site into a marquee property.
From location to design and amenities, the development team saw in Auberge Beach Residences & Spa Fort Lauderdale an understated, yet remarkable, all-residential property from the Auberge Resorts Collection.
…
The luxury development's 20,000-square-foot Spa at Auberge Beach and Dune restaurant are open to the public. Both draw on features from the Auberge Resorts Collection's Napa Valley property.
Auberge Beach today is one of several luxury condominiums that are reshaping Fort Lauderdale beach with amenities and architecture that are transforming the city and region into an iconic lifestyle destination.
——
BEST MARKET-RATE RESIDENTIAL: WINNER
Park-Line Palm Beaches
Moss
Key partners
Client/developer: Florida East Coast Industries
Design architect: HKS
Architect of record: NBWW
Structural engineer: DeSimone Engineering
Landscape architect: EDSA
Park-Line Palm Beaches is associated with the new Brightline/Virgin Trains USA rail line that connects Palm Beach, Broward and Miami-Dade counties. The building represents a hybrid, mixed-use transit-orientated development.
The building itself is a 25-story, 730,000-square-foot structure with 290 market-rate rental apartments and corresponding amenities; 20,000 square feet of retail, and 11 stories of parking, which includes 470 spots dedicated to the train service. …
—–
BEST MIXED-USE PROJECT: FINALISTS
Muze at Met Apartments/Silverspot Cinema
ZOM Living
Key partners
General contractor: Suffolk Construction
Architect: Nichols Brosch Wurst Wolfe
Landscape: Architectural Alliance Landscape
Engineer: Steven Feller P.E.
Insurance: Beane and Bennett
Financial: UBS Realty Investors
Muze at Met is a 42-story, 391-apartment rental and movie theater complex built atop a podium superstructure through the acquisition of air rights only and no fee simple real estate. The podium contains a six-level vertical movie theater and 20,000 square feet of restaurant space from a separate developer, and was constructed simultaneously with the $155.6 million Muze tower (excluding the retail and movie theater) utilizing three integrated construction contracts.
…
The project architect's deep experience with complicated mixed-use projects, working in conjunction with the structural engineer, resulted in placing the apartments atop the vertical movie theater. This made it virtually unnoticeable from within or outside of the building.
Read more >>>> Source: South Florida Biz Journal https://www.bizjournals.com/southflorida/news/2019/11/22/what-you-missed-at-sfbjs-2019-structures-awards.html