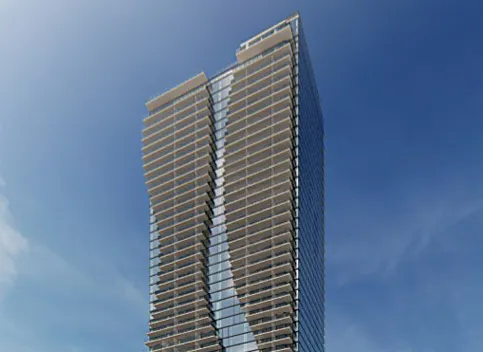 52-story Miami World Tower wins board backing – Miami Today
Wed Mar 04 2020
A skyscraper is coming to Miami Worldcenter, serving to further build out the evolving Park West neighborhood north of downtown Miami. It is designed by NBWW.
Written by John Charles Robbins
The latest project is Miami World Tower, planned for Block E of the sweeping development, at 700 NE First St.
The new building is designed at 52 stories, to be home to 560 residential units and about 3,136 square feet of commercial-retail space.
The site borders the Miami Worldcenter pedestrian promenade, rising up from what used to be Seventh Street.
At its most recent meeting, the city's Urban Development Review Board voted unanimously to recommend approval of the tower. Most board members generally liked the proposal and one even referred to the new tower as "sexy."
Owner-developer Miami World Towers LLC said the new building will be 834,795 square feet, including a parking pedestal to accommodate about 421 vehicles. Documents show there will be 22 spaces for bicycles.
The city's zoning code calls for minimum open space at 10%, and the developer has submitted a warrant request to allow 9%.
…
Bruce Brosch of architectural firm of Nichols Brosch Wurst Wolfe & Associates began his presentation about the latest tower showing a short video of the overall development and site.
Within the urban grid that is Miami, the Miami Worldcenter development is "a district in and of itself, with unique experiences," according to the video.
"It's worth noting that at the second floor, we lined the entire garage with habitable units," said Mr. Brosch.
Read on >>> Source: Miami Today 52-story Miami World Tower wins board backing – Miami Today