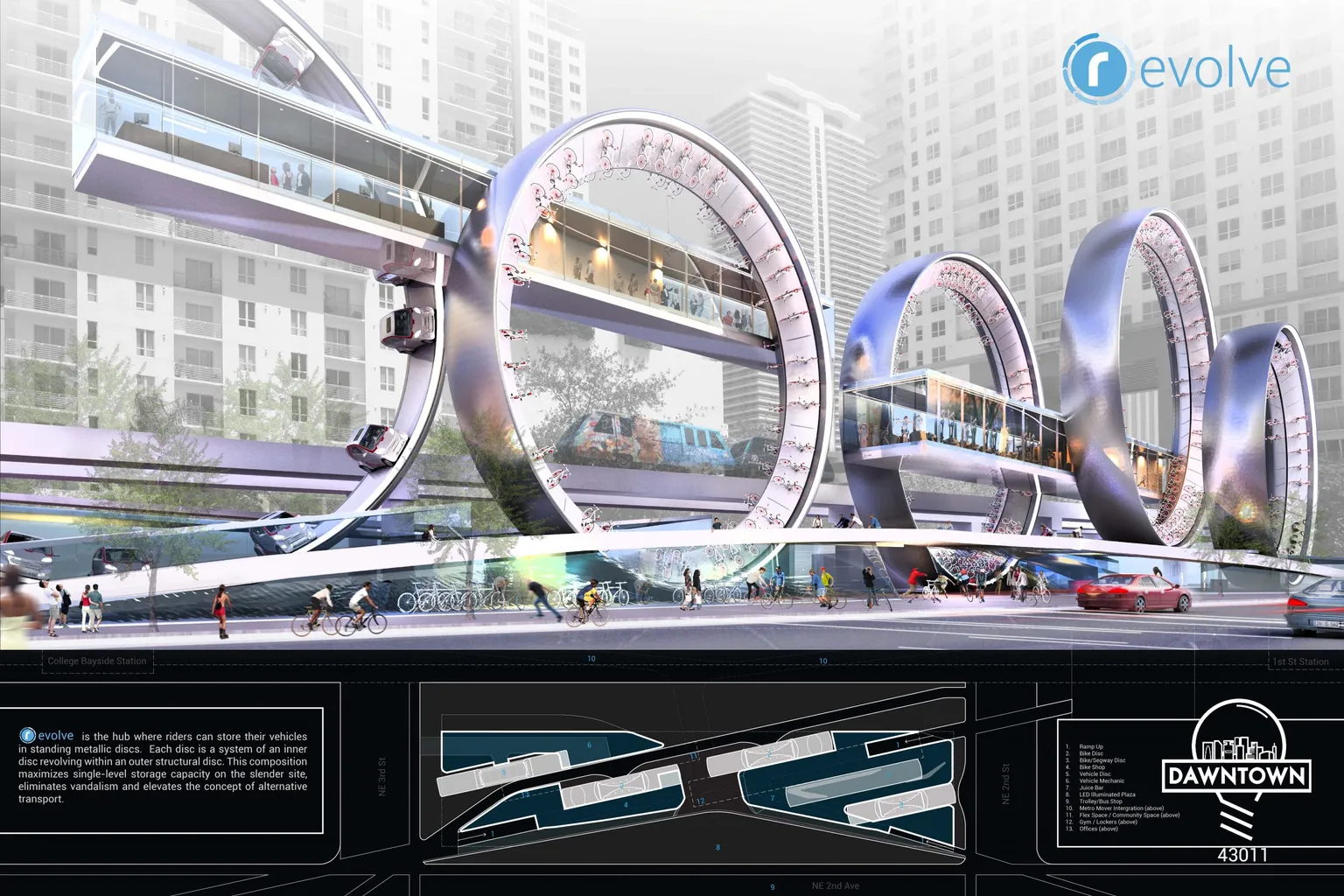 A cool #TBT for the cycling craze – our Dawntown 2014 concept called REVOLVE
Thu Jul 09 2020
Revolve is the hub where riders can store their vehicles in standing metallic discs. Each disc is a system of an inner disc revolving within an outer structural disc. The composition maximizes single-level storage capacity on the slender site, eliminates vandalism and elevates the concept of alternative transport.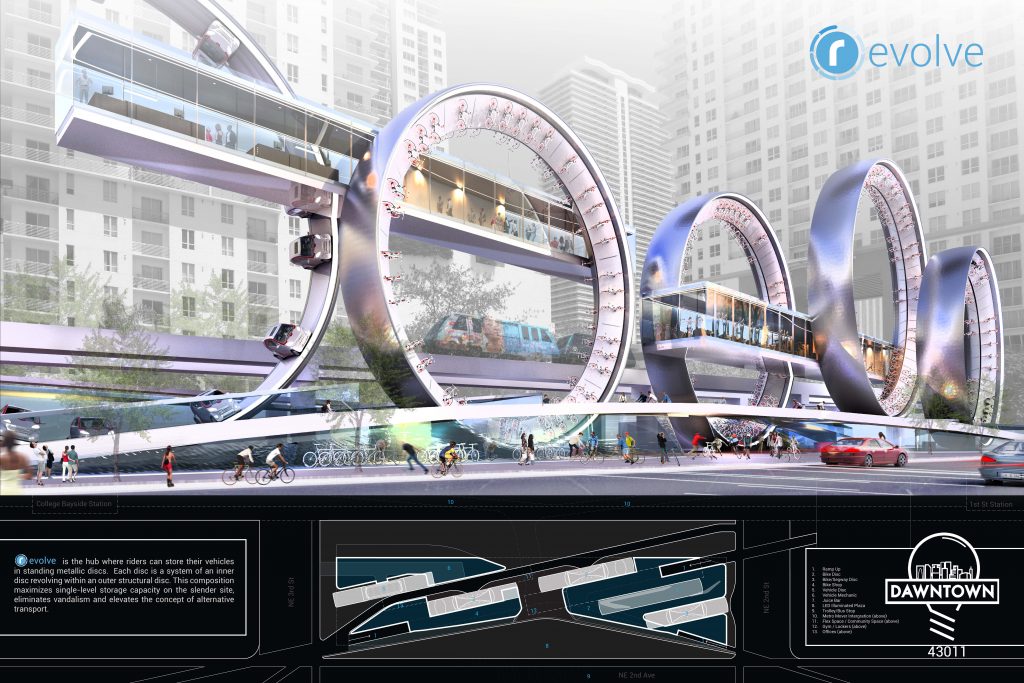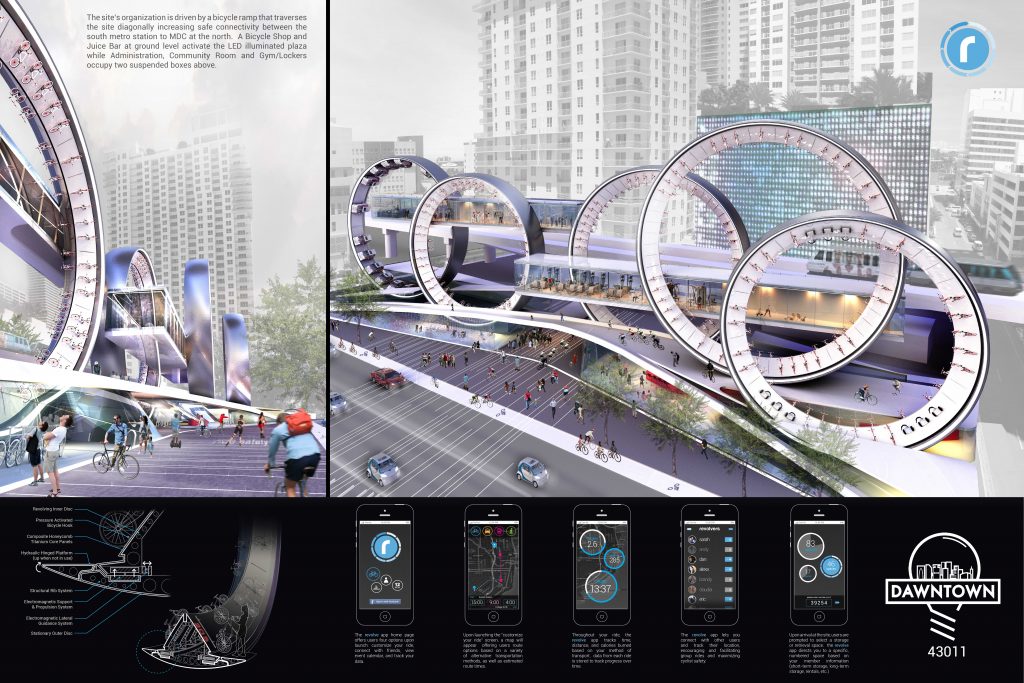 The site's organization is driven by a bicycle ramp that traverses the site diagonally increasing safe connectivity between the south metro station to MDC at the north. A Bicycle Shop and Juice Bar at ground level activate the LED illuminated plaza while administration, Community Room and Gym/Lockers occupy two suspended boxes above.
ABOUT ALTERNATIVE MOBILITIES
Increasing fuel prices and tightening infrastructure budgets are leading many commuters to seek alternative modes of transportation. ALTERNATIVE MOBILITIES explores a different type of transportation hub. This center is oriented towards providing personal and pedestrian transport, without the large public budgets necessary to produce mass transit networks of the traditional bus and rail super projects. Providing low-cost, low-fuel, high efficiency private transit without interfering with existing transport modes, ALTERNATIVE MOBILITIES explores a new form of urban transportation network: personal, inexpensive, fast, mobile, efficient, and available on demand.
Within the last 5 years, many cities have incorporated ways to promote cycling as an alternative mode of transportation. Cities like New York, Portland, Minneapolis and even Miami have established planning efforts and special events around cycling, but there has not been much progress to advance these strategies into the built environment. Chicago is one of those few cities that have followed the European model by creating a bicycle center in their downtown that serves people commuting to and from work.
Cycling may have helped the rejuvenation of urban centers and downtowns, but automobiles have had to adjust. As people return to these areas, the ability to own a car has become cumbersome and expensive. Car sharing mediates this dilemma by providing a middle ground between the pedestrian and the driver. The car share program allows for personal maneuverability over short term usage. These membership programs, like Car2Go or ZipCar, are tailored to suit the different needs, from a leisurely drive through the city, a quick drop off at the airport, to running errands and grocery shopping. Recently, entrepreneurs have taken car sharing to the social networking level with applications such as Uber and Lyft, providing an on demand and custom service to the individual.
This competition is not meant to replace current public means of transport, but rather find a way to intersect them all at a central point. Having better mobility options will create a generation less dependent on personal automobile use, therefore alleviating traffic congestion and promoting safer streets. These options will in turn make our cities healthier, cleaner, sustainable, and more efficient.