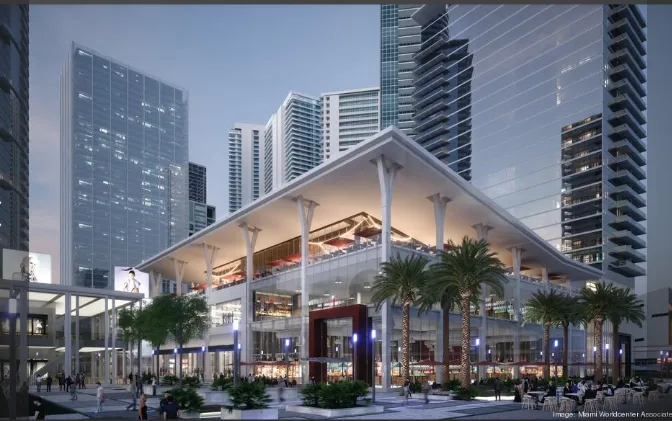 Construction begins on Jewel Box in Miami Worldcenter – Construction Review
Fri Sep 03 2021
CIM Group and Miami Worldcenter Associates have begun building the Jewel Box in Miami Worldcenter, which will serve as a retail component
The iconic Jewel Box is intended to become a world-class signature retail component of the 27-acre Miami Worldcenter.
According to the design plans, the Jewel Box in Miami Worldcenter, will be a two-story building with a glass design from floor to ceiling, occupying 78,264 square feet of retail space and a total building size of 135,208 square feet. The plan also includes a rooftop  overlooking the World Square plaza and a public space at the end of a commercially lined pedestrian stroll.
Companies involved in this development include the Miami-based BDI construction, as the general contractor and Coral Gables-based Nichols Brosch Wurst Wolfe & Associates, as the designers. The project is expected to be completed around the second quarter of next year.
The Jewel Box in Miami Worldcenter will exhibit traditional retailing spaces, courts for food and beverages, as well as an entertainment hub. All these features will be designed with efficient linkage to the residential, hotel, and office areas within the master-planned development. The site will also have a wide range of transit connections, as it lies adjacent to Miami central station, providing routes to various parts of Florida.
Ntin Motwani, the managing partner of Worldcenter Associates said the concept and design of the Jewel Box in Miami Worldcenter portrays the views of brands across Florida and around the world.
Read on >>>> Source: Construction Review Construction begins on Jewel Box in Miami Worldcenter