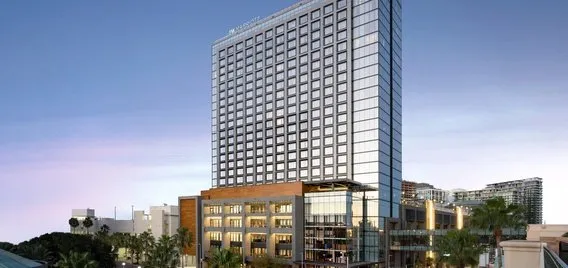 Construction firms prepare Tampa for Super Bowl spotlight | Construction Dive
Sat Feb 06 2021
Ahead of the big game, the city saw the construction of a new hotel and upgrades to its stadium…
JW Marriott Tampa Water Street
On Feb. 3, just four days before the Super Bowl, JW Marriott — the luxury hotel brand of the Marriott hotel chain — announced the opening of the JW Marriott Tampa Water Street, the 100th JW Marriott location worldwide and the first in the city. Designed by Nichols Brosch Wurst Wolfe & Associates, the hotel has 519 rooms, a four-story atrium lobby and a floating conference room called "Skybox." Construction on the hotel began in early 2018.
The hotel is about a 15-minute drive from Raymond James Stadium, but is right next door to the Tampa Convention Center and Amalie Arena — home to the NHL's Tampa Bay Lightning. The JW Marriott features 100,000 square feet of meeting and event space, and is connected to the Tampa Marriott across the street by a glass skybridge.
Hotel officials outlined COVID-19 safety protocols, to include face covering requirements, plexiglass shields at reception and higher frequency cleaning.
Read on >>>>> Source: Construction firms prepare Tampa for Super Bowl spotlight | Construction Dive