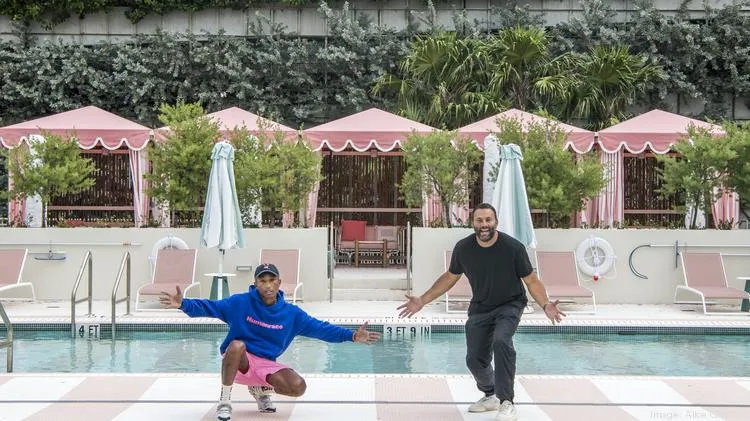 David Grutman, Pharrell Williams set to debut Goodtime Hotel in Miami Beach – South Florida Business Journal
Tue Apr 13 2021
The opening marks the local hospitality mogul Grutman's first hotel project, and his second collaboration with singer Pharrell Williams.
Nightclub and restaurant mogul David Grutman will debut his first hotel Thursday in Miami Beach.
The 266-room, seven-story Goodtime Hotel at 601 Washington Ave. in Miami Beach spans a full block with 100,000 square feet of indoor space. The Art Deco-style hotel features a pool deck, an on-site restaurant, a private lounge and ground-floor retail.
The Goodtime Hotel is a partnership between Grutman of Miami Beach-based Groot Hospitality and singer-songwriter Pharrell Williams, whom Grutman collaborated with previously for the restaurant Swan & Bar Bevy in the Miami Design District. Grutman also partnered with New York-based real estate development firm Imperial Cos. for the hotel project. The architects on the project are Morris Adjmi and NBWW.
Grutman said he's always wanted to open a hotel, and finally got the chance when Eric Birnbaum and Michael Fascitelli of Imperial approached him about four years ago.
They originally reached out asking if he'd do the food and beverage program for a potential hotel at the site.
"Always wanted to be a hotel [owner] to try to complete my ecosystem in hospitality," he said. "I thought I knew a lot about the hospitality business before, but there has been a lot of learning from Eric and Michael for this."
Read on >>>>> Source: David Grutman, Pharrell Williams set to debut Goodtime Hotel in Miami Beach on April 15 (Photos) – South Florida Business Journal