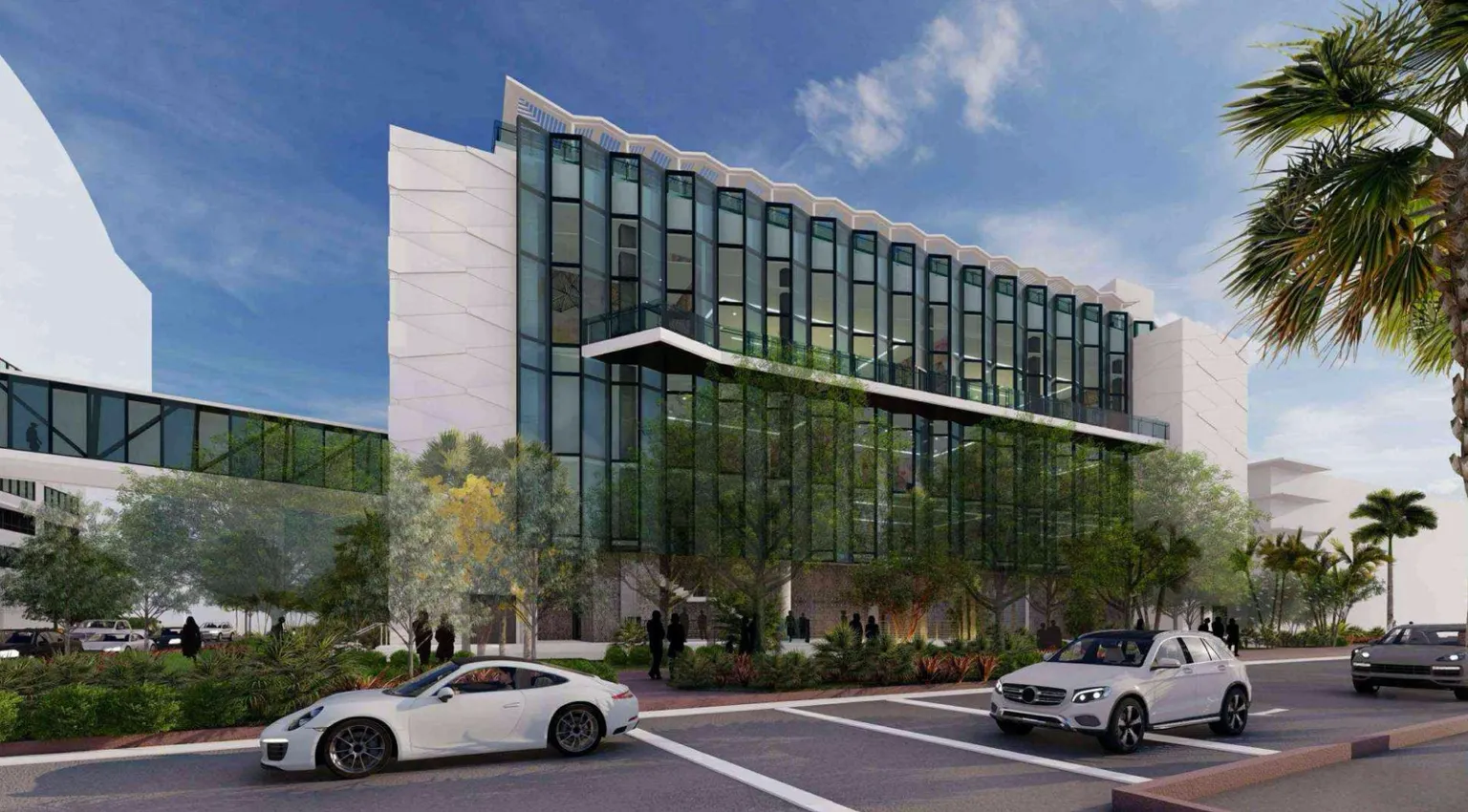 Fontainebleau Ballroom Structure, Pedestrian Bridge Approved – Mid Beach
Sat Jan 30 2021
The Fontainebleau Hotel passed the final hurdle for its proposed new ballroom structure designed by NBWW to make it more competitive with other South Florida meeting facilities.
Susan Askew
Earlier this month, the Miami Beach Historic Preservation Board approved plans for the five-story stand-alone structure on what is now a surface parking lot between 43rd and 44th Streets and Collins Avenue and Indian Creek Drive. Across the street from the main hotel, it will be connected by a pedestrian bridge over 44th Street.
Responding to concerns expressed by the Preservation Board (HPB) and City staff about activation of the pedestrian level, the Fontainebleau proposed "an interactive augmented reality experience along the perimeter of the building, in order to celebrate the Morris Lapidus/Mid-Century Local Historic District," wrote attorney Mickey Marrero of Bercow Radell Fernandez Larkin & Tapanes in a letter to the HPB. "This will include a set of 'experiences' throughout the property that will be set up along a pathway that surrounds the building… A Morris Lapidus statue or bust is also proposed to draw special attention to the central figure who the District is named after."
…
Marrero said the owner and architect explored other options for expansion within the Fontainebleau's main campus but due to the many historically significant buildings on the site and existing layout of the hotel, it "wasn't really conducive to having another structure there" so they looked to the parking lot to the south as the best option.
Along with a parking garage which will be used for employee parking, the five-story structure will include a grand ballroom, junior ballroom, meeting rooms, and a small rooftop area to be used primarily as a pre-function space. When built, Marrero told the Planning Board last year, the amount of ballroom and meeting space per room key will increase from 59 sq. ft. to 80. "Not as high" as the Fontainebleau's competitors, he said, "but high enough… it puts us in a competitive position."
The architect is Don Wolfe, Nichols Brosch Wurst Wolfe & Associates (NBWW).
Read on >>> Source: Fontainebleau Ballroom Structure, Pedestrian Bridge Approved – Mid Beach