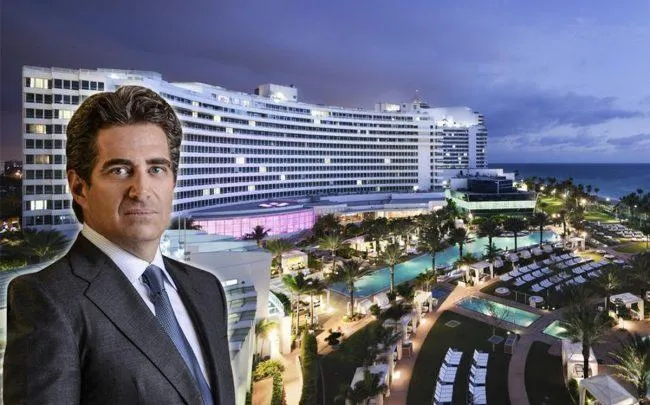 Fontainebleau Miami Beach reveals proposed addition – The Real Deal
Thu Feb 20 2020
Hotel also wants to add more ballrooms to better compete with Trump National Doral Miami and other resorts
By Francisco Alvarado
Jeffrey Soffer wants to build a new garage at Fontainebleau Miami Beach, with top-floor ballrooms.The proposed garage, designed by NBWW, will be strictly for employees, which means hotel guests will continue to valet at the entrance of the storied resort.
Miami Beach's land use committee on Thursday recommended the project after hearing details about the new structure, which would be built on an existing surface employee lot on Collins Avenue between 43rd and 44th streets. The new building would connect to the existing hotel property via an elevated pedestrian bridge 27 feet above the street.
The garage, which went from having 500 spaces to 400 spaces, would also include new ballrooms on the top floor so the Fontainebleau Miami Beach can better compete with other South Florida resorts such as Trump National Doral Miami for conventions and corporate events, said Mickey Marrero, a lawyer representing Soffer's Fontainebleau Florida Hotel LLC.
…
Project architect Don Wolfe showed committee members preliminary sketches and a rendering that depicts a boxy building with an all glass facade with a pedestrian bridge that also features all glass walls. "It is a very minimalistic modern piece of architecture," Wolfe said.
Read on >>>> Source: The Real Deal Fontainebleau Miami Beach Seeks New Garage, Ballrooms