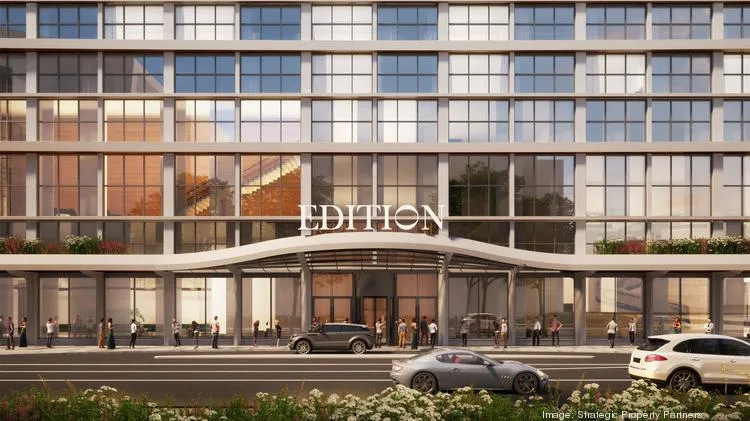 Ian Schrager on Water Street Tampa's new Edition hotel-condo – Tampa Bay Business Journal
Sat May 01 2021
The Tampa Edition has been touted for years as a watershed development, bringing the city's first hotel-branded residences to life. Here's how Schrager, creator of the boutique hotel and co-founder of iconic New York nightclub Studio 54, designs a space to make your "heart beat a little faster."
Ian Schrager can't say exactly what guests and residents will experience when they walk into the Edition Tampa.
The hotel-condo, under construction on Channelside Drive in Water Street Tampa, has been touted for years as a watershed project. Its ultra-luxe condos, which start on the tower's 15th floor, are Tampa's first hotel-branded residences, and only the third Edition-branded condos in the world. The tower — which includes 172 rooms and 37 condos priced from $2 million, a rooftop pool and food and beverage options — reached its full height of 26 stories earlier this year and is slated to open in the coming months. Architecture firms Morris Adjmi Architects and NBWW as AoR, and design firm Roman and Williams designed the Edition.
"You're walking into a magical place, and it makes your heart beat a little faster because you know you're somewhere special," Schrager told the Tampa Bay Business Journal on Friday. "It's hard to define it, but you know it's special. That's the alchemy we're looking to create."
Schrager, the founder of iconic New York nightclub Studio 54 and creator of the modern boutique hotel concept, says Edition Tampa's design was heavily influenced by the nature of Water Street. The $3 billion-plus mixed-use development, under construction between the Channel and central business districts, is essentially a miniature city and a whole new skyline for Tampa, adding 1,300 residential units and 70 restaurants and retailers to the city center.
Read on >>> Source: Ian Schrager on Water Street Tampa's new Edition hotel-condo – Tampa Bay Business Journal