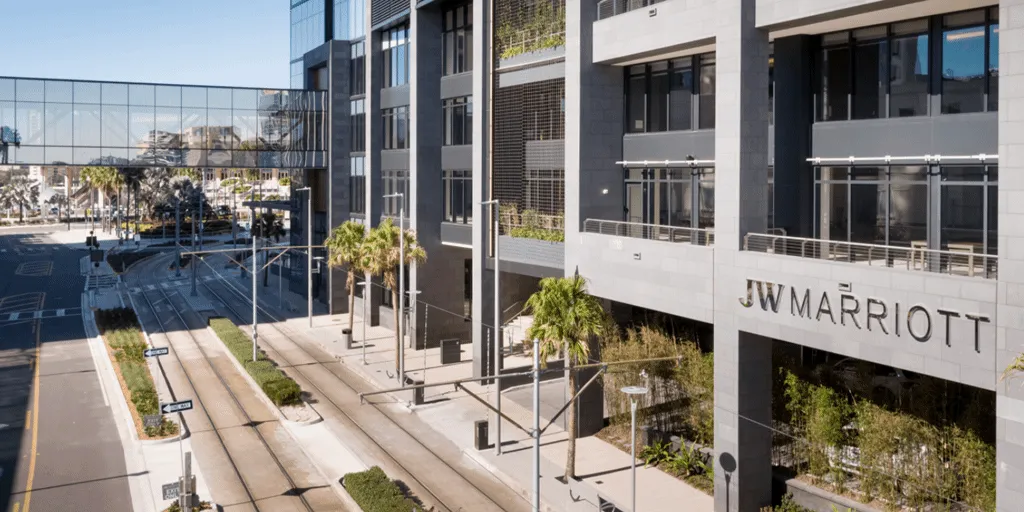 JW Marriott hits key milestone with the opening of its 100th hotel | TOPHOTELNEWS
Wed Feb 17 2021
Featuring the work of Nicholas Brosch Wurst Wolfe & Associates and Champalimaud Design, the 100th JW Marriott property worldwide is an impressive addition to Florida's hospitality scene.
by Lauren Ho
Marriott International has strengthened its foothold in the Sunshine State with the debut of its luxury brand JW Marriott in Tampa. JW Marriott Tampa Water Street is expected to hold a formal grand opening celebration in April 2021.
The scheme's located next to both the Tampa Convention Center and Amalie Arena (home to the NHL team Tampa Bay Lightning), and boasts convenient access to its sister property, Tampa Marriott Water Street, via a glass skybridge on the third floor.
"The first JW Marriott opened in Washington DC in 1984 and was a tribute to my father, JW, and a celebration of his love of service and hospitality," explained Bill Marriott, executive chairman of the board at Marriott International. "That tribute has now evolved into a global hotel brand, an incredible testament to the spirit of that first hotel being embraced worldwide. Our family is incredibly proud that my father's name now welcomes guests in over 100 desirable destinations across the globe now, including Tampa."
An impressive design-led hotel
Designed by Nicholas Brosch Wurst Wolfe & Associates, the hotel's wow factor is boosted considerably by the presence of an art-filled four-storey atrium anchored by a floating conference room dubbed 'Skybox'. Meanwhile, New York-based outfit Champalimaud Design has layered the interiors with a water-inspired concept featuring custom furnishings in a soft, natural colour palette that creates an understated and calming aesthetic.
Billed as a hotel for both business and leisure travellers, there's no less than 100,000 sq ft of meeting and event space, including the largest ballroom in Tampa at approximately 30,000 sq ft. In tandem with Tampa Marriott Water Street, moreover, the complex features more than 40,000 of additional total event space.
Read on >>>> Source: JW Marriott hits key milestone with the opening of its 100th hotel | TOPHOTELNEWS