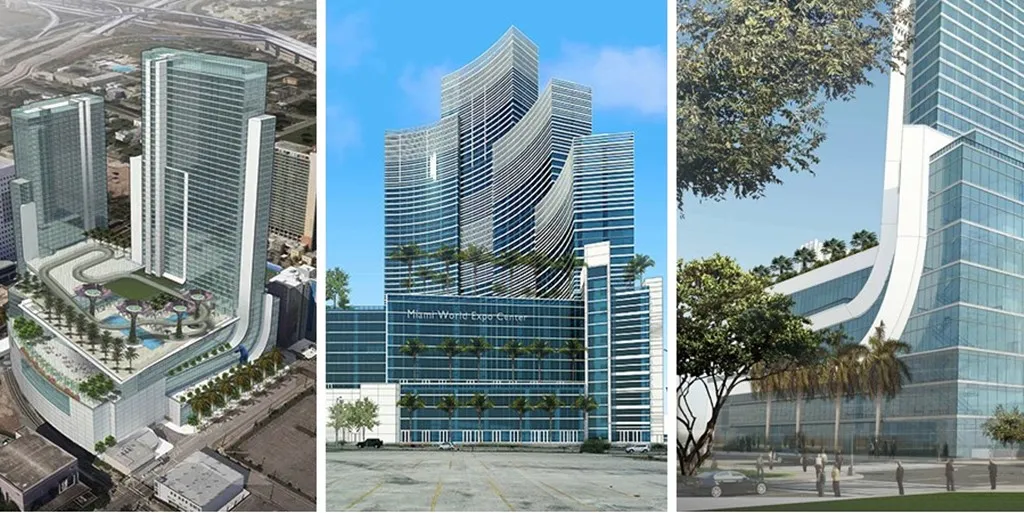 Project of the week: eye-catching Marriott Marquis Miami Worldcenter Hotel & Expo Center
Tue May 26 2020
New 1,173-key Marriott property in Miami looks set to become the city's premier conference and event hotel.
by Sorcha O'Higgins
The transformative Miami Worldcenter scheme
One of the biggest developments in the United States at the moment is Miami Worldcenter, a transformative complex of retail, commerce, hospitality and exhibition space, as well as private residences and over 2,000 hotel rooms. According to its website, Miami Worldcenter will be "a dynamic urban core of diversity and excitement" that "brings a new energy to Miami with a compelling blend of exceptional retail, hospitality, residential, and commercial offerings in one unique location".
One of the most hotly anticipated sections of this 30-acre development is the Marriott Marquis Miami Worldcenter Hotel & Expo Center, a large-scale hospitality scheme that will provide visitors to the area with not only a place to stay, but a base from which to explore this exciting new chapter in Miami's history and to attend the many conferences, events and expositions that are sure to take off here once the Covid-19 crisis has passed.
Marriott Marquis in Miami
…
The architects for the project are Nichols Brosch Wurst Wolfe & Associates (NBWW) from Coral Gables, FL. The project team is working to create the most cutting-edge conference hotel in the city, boasting over 600,000 sq ft of meeting, exhibition and event space – including a 65,000 sq ft Grand Ballroom, 42,000 sq ft Junior Ballroom, 110,000 sq ft of dedicated exhibit space, 80,000 sq ft of pool/event outdoor space and a 1,500-seater theatre. And the architecture of the new scheme is equally ambitious, with four towers rising behind a lower podium in a design concept that will help shape the skyline of this exciting new area of Miami.
Read on >>>> Source: Top hotel News Project of the week: eye-catching Marriott Marquis Miami Worldcenter Hotel & Expo Center