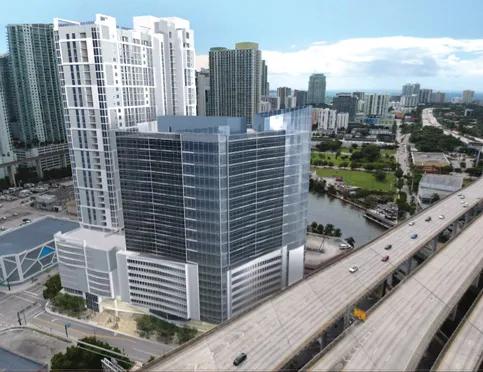 Public-private Miami administration building deal nears – Miami Today
Wed May 12 2021
The City of Miami's administration team could finally be moving away from the Miami Riverside Center in a public-private development deal with the Adler Group.
Written by Susan Danseyar
City commissioners are to vote today (5/13) on whether a new headquarters building will be located as long planned at the Nexus site at 230 SW Third St. This formal decision on the site is necessary for the city to negotiate and finalize agreements before they come before the commission.
The city says it is interested in moving the administrative building to accommodate an increasing number of employees.
…
The city commission approved an agreement with Adler/Lancelot to build a city administrative building to replace the existing Riverside Center, characterized by city officials as "functionally obsolete." The building was originally constructed for Florida Power & Light offices before the corporation centralized operations in Juno Beach.
The overall plan will free up the city-owned riverfront site for a private mixed-use development from Adler/Lancelot.
Rachel Schapiro, an Adler Development principal, told Miami Today in September that "during the pandemic, Adler and the city have been collaboratively working together to make significant progress. The site plan has been approved and (we) are now focused on the building plans."
The new development is designed by Nichols Brosch Wurst Wolfe (NBWW).
Read on >>>> Source: Public-private Miami administration building deal nears – Miami Today