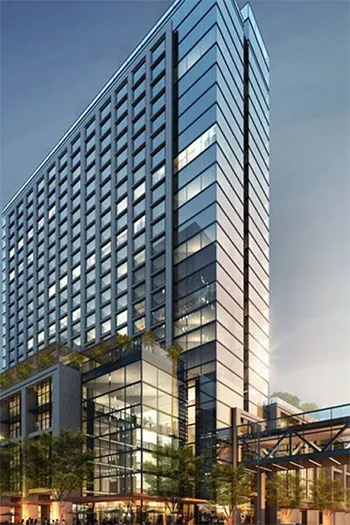 Tampa Hotel Opens in Anticipation of Super Bowl
Tue Feb 02 2021
Super Bowl LV visitors to Tampa on 7 February, 2021 won't have a shortage of venues to book while they're in town.
Contractors are vigorously putting finishing touches on a half a dozen new and renovated hotels. But one of the most anticipated venues debuted Monday, 21 December, 2020.
Under construction for 2.5 years, the 27-story, US$200 million-plus JW Marriott Tampa Water Street hotel is the centerpiece of Water Street Tampa, the US$3.5 billion development led by Tampa Bay Lightning owner Jeff Vinik's company Strategic Property Partners and Cascade Investment Group owned by Bill Gates. The development encompasses some of Tampa most prime real estate between the Tampa Convention Center and Port Tampa Bay.
…
"Combining modern luxury with the sophisticated energy of Tampa's Water Street neighborhood, our hotel is more than just a place to lay your head," Akins said. "Designed to bring guests together, we offer multiple social spaces for cultivating new connections." The hotel was designed by architects NBWW.
The complex includes two Marriott hotels—one renovated, one new construction, both by NBWW—with more than 1,200 rooms and 140,000 square feet (13,006 square meters) of event space including 100,000-square-foot (9,290-square-meter) high-tech conference theaters, intimate boardrooms, indoor and outdoor wedding spaces that rival the country's top hotels, and a 30,000-square-foot (2,787-square-meter) ballroom that currently serves as a practice court for the Toronto Raptors, which are playing this season in Tampa Bay due to coronavirus restrictions in Toronto.
A skybridge connects the JW Marriott Tampa Water Street and the Tampa Marriott Water Street.
… Eventually, the JW Marriott will be joined by another hotel, the Edition, located on the other side of Amalie Arena. Created in partnership with hotelier Ian Schrager, the Edition aims to be Tampa Bay's first five-star hotel when it opens in late 2021. The tower's 37 luxury residences are now on sale starting at $2 million. The Architect of Record is NBWW.
Read on >>> Source: CTBUH Tampa Hotel Opens in Anticipation of Super Bowl