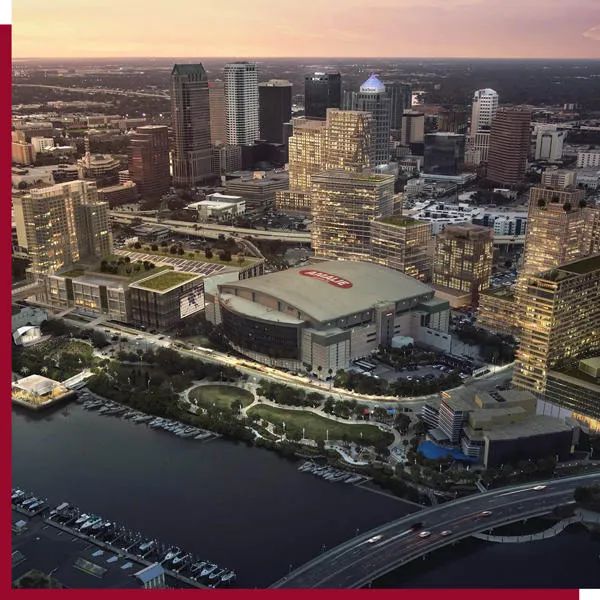 Tampa Real Estate Market Is Ready for Its Super Bowl Moment – The Real Deal
Sat Feb 06 2021
Super Bowl LV host city Tampa is in a development boom, with a $3 billion waterfront project and a hot resi market drawing investors.
UPDATED, Feb. 5, 2:11 p.m.: The headliners in Tampa this weekend are no doubt Patrick Mahomes of the Chiefs and Tom Brady of the Buccaneers, but the two star quarterbacks aren't the only game in town.
While Jeff Vinik, Bill Gates and Ian Schrager will definitely not be suiting up on Sunday for Super Bowl LV, the trio are key players in a $3.5 billion mixed-use project set to transform the host city's downtown waterfront. And with residential sales buoyed by a Florida market that has seen buyers move south for the climate, room, lighter taxes and less stringent Covid regulations, Tampa has attracted a crowd that will stay long after the Big Game.
Much of that focus is centered on the massive Water Street Tampa. The 56-acre, 9 million-square-foot complex is being developed by Strategic Property Partners, a partnership of Vinik and Cascade Investment, a fund controlled by Microsoft's founder. In addition to apartments, condos, restaurants and offices, the megaproject includes three hotels. The 519-room JW Marriott Tampa Water Street, designed by NBWW, opened last month… and the city's first five-star hotel, Schrager's 172-key Tampa Edition with Marriott International (NBWW is AoR), just topped off and will open later this year. It will also have 37 luxury condos above the hotel, along with 30,000 square feet of retail space. The third hotel is the Tampa Marriott Water Street, also designed by NBWW, which has 727 rooms and is directly across Water Street from the JW Marriott.
The hospitality industry has been scorched by the pandemic, but Tampa has been among the most resilient markets, consistently ranking highest in occupancy nationwide — albeit drastically below pre-pandemic levels — according to hospitality research firm STR. Schrager, who created The Edition brand with Marriott, said he was optimistic about his first project in the Big Guava.
Read on >>>> Source: The Real Deal Tampa Real Estate Market Is Ready for Its Super Bowl Moment