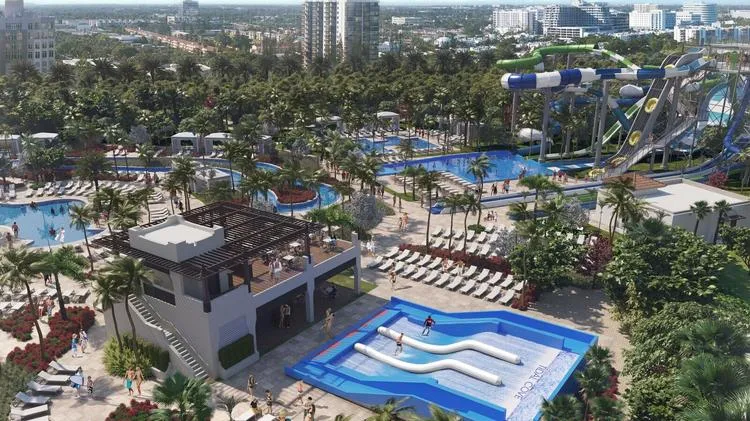 Water park to open at Turnberry resort
Wed Jan 23 2019
The JW Marriott Miami Turnberry Resort & Spa, formerly known as the Turnberry Isle Miami resort and golf club, unveiled a water park attraction Tuesday that's part of the property's major expansion plans.
Tidal Cove Waterpark will have a 60-foot tower with seven water slides, a 4,000-square-foot kids pool, a surf simulation pool, 25 private cabanas, two private event lawns at 15,000 square feet and 12,000 square feet, a new retail store and two dining venues.
Surf House Bar & Grill will be a two-story, open-air restaurant with seating for 142 people. Its menu will include dishes such as lobster roll tacos, crab and avocado toast and steamed mussels. The second restaurant, Freestyle, will serve quick-service food such as pizza and gelato.
Tidal Cove is coming to the property as part of an overall expansion and renovation to the property scheduled for completion by February. The multimillion-dollar renovation includes the addition of 325 guest rooms, which will nearly double the number of rooms, upgrades to the main lobby, front drive and other facilities.
The 300-acre property announced a rebranding to coincide with its revamp last year and construction began in July 2017. NBWW (Nichols Brosch Wurst Wolfe) are the architects on the project.
Read the full story HERE >>>> Source: South FL Biz Journal https://www.bizjournals.com/southflorida/news/2019/01/22/tidal-cove-water-park-to-open-at-turnberry.html