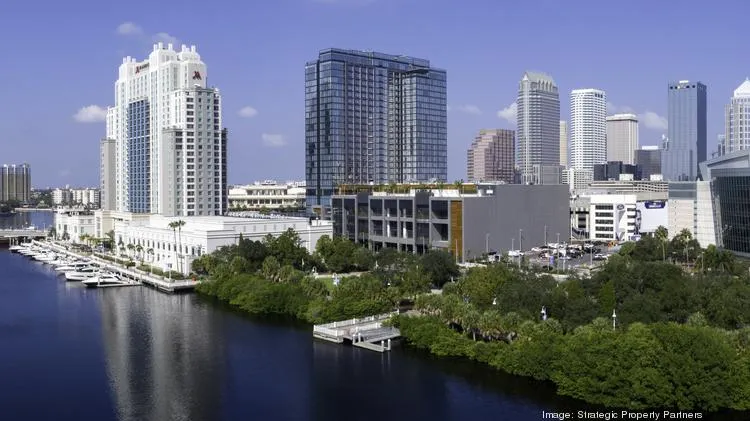 Water Street Tampa construction progresses through 2020 with 3 NBWW projects – Tampa Bay Business Journal
Tue Nov 10 2020
Water Street Tampa is rising quickly on a previously moribund corner of Tampa's urban core. We have a building-by-building breakdown of the construction progress — and what you can expect in the months ahead.
Water Street Tampa is more than two years and 5 million square feet into vertical construction — and the urban district is about to hit another major milestone.
Developer Strategic Property Partners says the removal of the existing railway crossing at Meridian Avenue is on track to begin in early November. That rail removal is tied to the relocation of the Ardent Mills flour mill to allow East Cumberland Avenue to connect to both Channelside Drive and Brorein Street — finally making for a direct east-west connection between the central business district and Water Street, the Channel district and Port Tampa Bay.
It's a construction project several years in the works: SPP acquired the flour mill's real estate in October 2018. Removing the flour mill will remove a longtime physical and mental barrier between the eastern and western ends of downtown Tampa.
SPP is controlled by Tampa Bay Lightning owner Jeff Vinik and Microsoft co-founder Bill Gates' Cascade Investment Fund.
The 3 NBWW Projects:
JW Marriott: The 26-story, 519-room JW Marriott was the first building to begin vertical construction in Water Street in April 2018, when it broke ground on what was previously Amalie Arena's Silver Lot. A new convention hotel has been part of Vinik's vision for downtown Tampa since long before Water Street had a name or even a master plan in place; a hotel in that location cleared the city council approval process in 2014.
Before it ever broke ground, the JW Marriott was named the host hotel for Super Bowl LV, which will be played in Tampa on Feb. 7, 2021.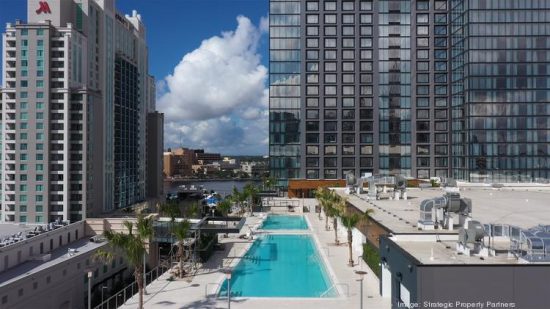 JW Marriott Tampa Water Street pool deck – Strategic Property PartnersThe new JW will add 100,000 square feet of ballrooms and meeting space; combined with the Marriott Water Street, this corner of downtown Tampa will offer 1,246 hotel rooms and 175,000 square feet of meeting space, plus multiple bars and restaurants between both properties.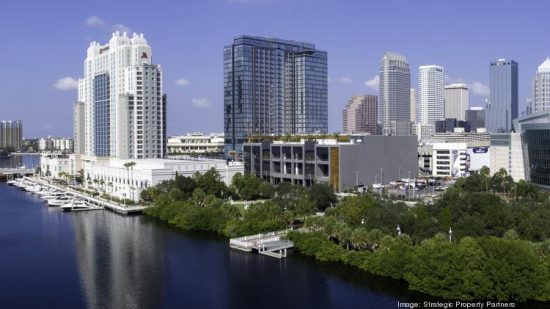 A mid-October shot of Water Street Tampa, viewed from the Beneficial Bridge, shows Amalie Arena, the JW Marriott and the Tampa Marriott Water Street.
Strategic Property Partners
The Tampa EDITION: This hotel-condo, the first of its kind in Tampa, is slated to top out in January. It will include 172 boutique hotel rooms and 37 hotel-branded condos on floors 10 through 27. It's on track to wrap up completion by the end of 2021. It broke ground in 2019 across the street from Amalie Arena, at the northwest corner of Channelside Drive and Water Street.
Read on >>>> Source: Water Street Tampa construction progresses through 2020 (Video) – Tampa Bay Business Journal