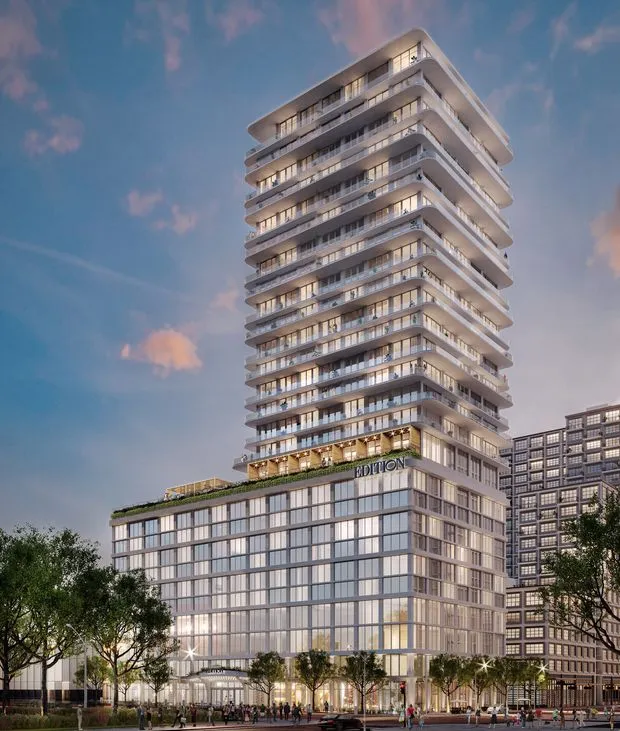 Water Street Tampa's first luxury condos hit market, starting at $2 million – Tampa Bay Times
Sun Dec 06 2020
The Residences at the Tampa Edition hotel are scheduled for move-ins by late 2021.
A crop of luxury condos in a forthcoming Water Street Tampa hotel has officially hit the market, with prices starting at $2 million.
The Residences at the Tampa Edition opened a sales gallery in late November at Sparkman Wharf, part of the $3.5 billion housing, office and retail district under development in Tampa's Channel District, giving curious customers a first look at the digs.
Listing agents with Smith and Associates have quietly marketed the condos to select clients for nearly a year, said Bob Glaser, the firm's president and CEO. The opening of the sales gallery essentially made the offerings public.
"Now with just about anybody coming in, we can skip over the reservation period, and be able to talk about move-in dates and actually go straight to contract with them," Glaser said.
It won't happen for some time. The five-star Edition, a partnership between Marriott International and renowned hotelier Ian Schrager, was originally scheduled to open in spring 2021, but delays related to the coronavirus pandemic have pushed that to late next year.
"We were hoping that Ian Schrager would cut a ribbon, and we would all be there drinking champagne, but COVID changed that, of course," Glaser said. "So it's been a very slow, quiet, considerate opening."
The Residences encompass 37 homes starting on the 10th floor of the 26-story, 172-room Edition hotel, which is slated to top out in January.
The Edition was designed by architect Morris Adjmi, with Nichols Brosch Wurst Wolfe & Associates (NBWW) as the Architect of Record for the project.
…
In the short term, the Edition's sister hotel in Water Street Tampa, the JW Marriott next to Amalie Arena, will open this month. It is taking guest reservations and will serve as a makeshift practice facility for the NBA's Toronto Raptors, who will open this season in Tampa. JW Marriott was also designed by NBWW.
The Edition may be a year away, but Glaser said that just gives the homes more time to sell.
"There's a very good chance during that whole construction process, the building will be a home run, and there will be nothing available," he said.
Source: Water Street Tampa's first luxury condos hit market, starting at $2 million